Winter Storm Priorities - Prepare, Survive & Recover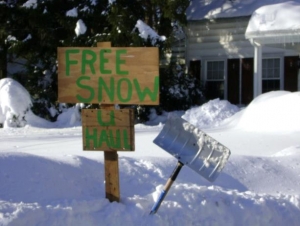 As the next big storm nears, there are several things we should all do to prepare, survive and recover:
- If you have a high school aged snow shoveler in your home, let your neighbors know by commenting here, or email the Board at HOA@MillCreekClassic.org . Blizzard conditions are a good time for strong backs to make money, while helping the community!
- Move all vehicles OFF the street. Park at the end of your driveway, but not beyond it. If you think your neighbor isn't getting this important safety message, please remind them. This is absolutely essential for snow plows to clear our roads and first responders to ensure our safety. If you need help clearing your driveway after the snowplows deposit a wall of snow there, just ask.
- Ask your elderly or infirm neighbors what help they might need. Keep an eye on them and be ready to assist.
- If a tree falls and blocks a Mill Creek street and you are unable to move/remove it, email us immediately at HOA@millcreekclassic.org
- use www.511virginia.org to check local, regional or state road conditions after any major storm. Use the Albemarle County Schools page for parents, or the UVA closing information page for school info. Comment to this article and share any other helpful resources/info with your neighbors.
- Prepare for power outages! Fill your clean bathtub with water, know the nearest shelter, stock supplies, etc. For official guidance, see: FEMA's Winter Storm Preparathon
- Did you know you should bang on your car hood after storms, to warn cats that might be sheltering there? Or that your dog benefits from boots too? Winter pet safety tips are a Google search away. Don't forget to bring your pets inside!