Our Own Little Free Library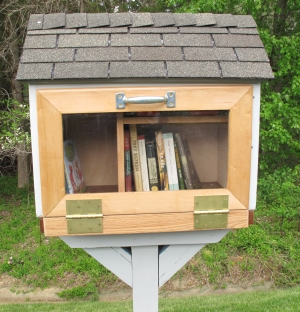 This week, a Little Free Library opened, adjacent to the sidewalk across the street from 131 Mill Creek Drive. Interest is high and trading has been brisk.
What is a "Little Free Library?" It is a place where neighbors can share books: "take one, leave one." So come see the books available for children and adults.
Who built our library? Volunteers worked over several months to build and install the library. Though small in size, the neighborhood project required research, site surveys, drawings, Miss Utility, Cabinetry and construction skills and approval from the Mill Creek Board of Directors. Gristmill Drive residents Janet Eden and Addeane Caelleigh were the project instigators - Janet installed the post. Special thanks go to Susan Patrick (Gristmill Drive) and Peter Kleeman who designed and built the library. They used recycled materials from their own projects. On behalf of those involved, Susan and Peter thanked the Homeowner's Association for its support in making a Little Free Library possible in Mill Creek: "From salvaged materials a library was constructed to be a meeting place for readers young and old and a source of pleasure and knowledge for all. We invite everyone to take a book, leave a book."
Want to know more about Little Free Libraries around the world? See http://www.littlefreelibrary.org to learn more about this community-based movement.